There are several reasons why exporting virtual tours using Lapentor's export feature can be highly useful for businesses. One of the most compelling benefits is the ability to back up your virtual tours or use them offline (with the help of some local web server). This feature is particularly valuable for companies and photographers that want to manage the data they provide to their customers. With Lapentor's export function, businesses can ensure that their virtual tours are accessible even when there is no internet connection available. This means that potential customers can still view and explore the virtual tour, even if they are in a location with limited connectivity.
1. Exporting Virtual Tour using Lapentor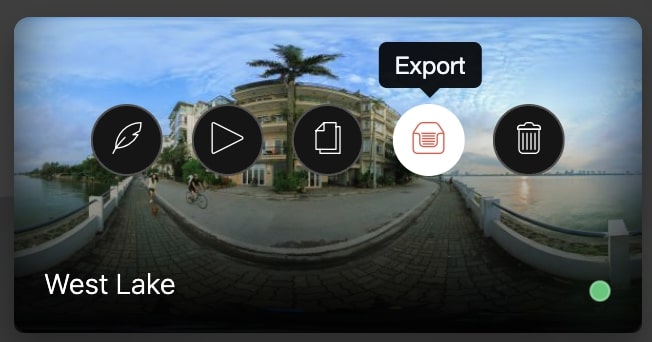 Pay $10 per project by entering your Credit Card info and making the purchase
Wait for a few minutes, if your project is large and has a lot of scenes, it will take a while, you can wait until it downloads to your computer or close it and come back later and check the Project Settings > Exported Files tab

Once a project is purchased, you can download it multiple times
2. Benefits of Exporting Virtual Tour
In addition to offline accessibility, exporting virtual tour also provides a convenient way to distribute virtual tours to others. This feature streamlines the sharing process, making it simple to share virtual tours with customers, colleagues, or anyone else who might be interested. Whether you want to email virtual tours, Lapentor's export function makes sharing a breeze.
Furthermore, exporting virtual tour with Lapentor's export feature helps businesses to maintain control over their data. This is especially important for companies that are concerned about data privacy or security. By exporting virtual tours, businesses can keep a copy of their data on their own servers and control who has access to it. This ensures that sensitive data is not compromised and that businesses can maintain the trust of their customers.
Overall, Lapentor's export function provides several key benefits for businesses. From offline accessibility to easy sharing and data control, this feature is an essential tool for any business that wants to provide high-quality virtual tours to its customers.
Offline usage.
When exporting virtual tour using Lapentor, users can view them anywhere, at any time locally. You can use offline versions of your virtual tours wherever there is no connectivity by downloading them with just a few mouse clicks. You won't need any technical knowledge or extra time out of your day because Lapentor makes this process incredibly simple.
Control of data.
You have more control over the information stored on your device when you can access your virtual tour even when you are offline. You don't have to be concerned about data caps or making sure you always have a copy of your tour at hand. All you need to ensure is this feature.
You can use your tour in locations without an internet connection if you can store it offline. If you travel to remote areas or want to avoid using up your data allotment, it might be essential. You don't have to worry about buffering or loading delays when using your tour.
Simple Delivery.
Particularly if you run a real estate agency, Lapentor's export function is ideal for sending virtual tours to your clients quickly and easily. With the help of this ground-breaking feature, you can send premium tours with just one click and deliver them right away. Your client will absolutely love your virtual tour experience with Lapentor's export feature.
Backup.
You don't want to lose all of your hard work if you create virtual tours. But it's inevitable that data corruption and permanent erasure can be brought on by hardware and software problems. The best insurance is provided by the Lapentor export feature for backup.
This clever feature securely saves your virtual tour so you don't have to start over when you go back to editing. Lapentor quickly backs up your virtual tours and conveniently makes sure that your hard work is stored across many platforms – both now and for years to come.
Keep up with us to avoid missing any future news!